Clicker Training Tricks and Treats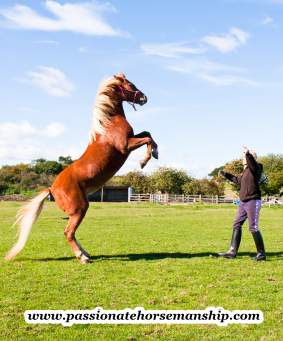 I've heard some people say clicker training (positive reinforcement) is all about teaching tricks and constantly giving treats and I don't want to go there with my horse. Yes clicker training can teach your horse tricks but it can be used for so much more as you can teach a horse such things as:
Spins

Getting used to clippers

Standing still for mounting

Taking wormer

Standing for the farrier

Loading in the trailer easily

Loping slow

Trotting beside you for halter classes
As far as giving treats constantly well I don't do that. I've seen people who click and treat for everything and guess what their horses are spoiled, pushy and some become dangerous. When I work with a horse I do click and treat a lot in the beginning but once the horse shows me they know the behavior on a consistent basis I phase out the click and treat.
Horses are very smart and have great memories so after performing the behavior on a consistent basis I then add in a cue. The only time I go back to clicking and treating is to either enforce a behavior or teach a new behavior.
Some people feel like clicker training (positive reinforcement) causes the horse to always be searching for treats and in the beginning with an inexperienced handler they might. When I teach this method of training I don't allow a horse to do this, but there are those that will allow the horse to extinguish this behavior. Now if you reward them every time they look for a treat then it is your fault as you are teaching them that.  
In my programs I don't teach tricks. I teach horses good foundational skills that people can build on and take the training to a more advanced level. Tricks may be fun, but I believe a solid foundation should be put in place first. I always tell people to keep in mind that the horse might not be with them forever and if all they know is tricks they may be hard to place unless they are going into the movies. If you put a solid foundation on a horse those skills can be used in any home and in my opinion it makes them more valuable.
Now with that being said I do have a 29″ miniature horse that I may teach tricks to later on cause he is too small to ride, but one thing about it he has good foundation skills. 
I want people to know that clicker training (positive reinforcement) is a very powerful communication tool that when used properly will get you amazing results with your horse. This training method is like any other training if it is not done properly you will create problems.
It's not clicker training that causes problems with the horse it's the person using the clicker that causes the problems. With Natural Horsemanship I've seen people cause problems with the horse because they were not doing things properly so take the time to learn how to use clicker training properly. Want to learn how to use clicker training with your horse? Contact me today to set up your lesson (325) 261-3360.