Horse Training Tips For Beginners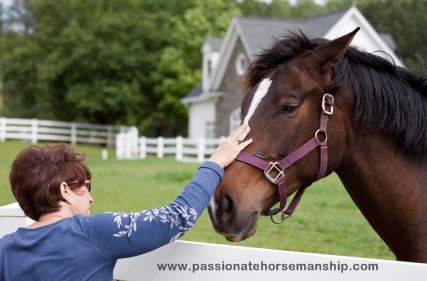 Body Language
The first thing we're gonna talk about is body language. Now, body language is really important when working with a horse. When you approach a horse and they can see or hear you … They're trying to decide, "Do I want to run or do I wanna stand here and wait?"
You've gotta be very careful about your body language, because whether you know it or not, you are training that horse even if you aren't directly handling them.
Let me give you an example. I've seen this happen many times. Let's say you have a horse that when you go to feed the horse starts pawing. It is digging and digging and digging. You think, "Oh, my gosh. I gotta hurry up. I gotta get the hay to this horse so it will stop this pawing."
You don't want them to dig a big hole in the stall. Or in some cases, especially if they're on concrete (at horse shows some of the stalls have concrete) you don't want 'em pawing and messing up their hoof or messing up the mats in the stall.
What people usually do is, "I gotta hurry up and throw this horse some hay." Well, guess what? [Read more…] about Horse Training Tips For Beginners