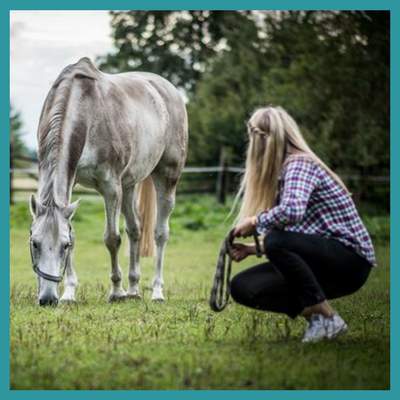 Is This You?
*Frustrated because you don't know how to get your horse to listen and do what you want?
* Worried about feeling stupid when competing with your horse because they won't behave?
*Worried you may have to sell your horse because you can't ride anymore due to your physical challenges?
If you're tired of being frustrated, worried, overwhelmed or confused then you're in the right place.
Trail Obstacle training will Transform the relationship with your Horse and You'll Have FUN!
---
Hi, I'm Kim
I'm a Positive Reinforcement Clinician and Instructor with 40+ years of horsemanship education and experience. I specialize in Trail Obstacle Training.
My Journey…
Well, I've been crazy about horses ever since I can remember and I'm pretty sure I got the horse bug from my grandfather, who rode Lippazans in the Calvary. He was an amazing horseman!
In 1995 I got involved with the Parelli Natural Horsemanship program. As a PNH student instructor, I began coaching and helping students communicate with their horses.
After several years of watching and helping people with their horses in the PNH program, I felt like there was a better way to communicate with horses. I saw horses getting frustrated and being forced to do things using force, fear, and intimidation I knew from personal experience that it didn't need to be that way.
I went on a quest to find a better way for people to be able to communicate with and train their horses.
What I found was something called "Clicker Training". I found that a lot of people use clicker training to teach horses tricks but for me, it became a powerful communication tool that could be used to improve the horse's performance in a shorter period of time.
Clicker training made a huge difference with all 11 of my horses, my miniature donkey, and my client's horses. There was no turning back they all loved it and responded really well.
I began to develop a system that incorporates positive reinforcement training with the Passionate Horsemanship holistic methods so my students can get amazing results with their horses.
My students have been able to get the results they want easily in a shorter period of time.
My students and their horses have become more confident.
My students have saved time and money by not having to send their horse off to a trainer.
My students develop a deeper bond with their horse.
I enjoy teaching these methods to even more people through my online and in-person training programs.
I truly believe that you can easily learn these methods I teach, and my passion lies in helping you to effectively communicate with your horse, gain more confidence, and get the results you want without using force, fear or intimidation.
Discover how I can help you to achieve your goals and dreams!