Clicker Training Extinguishing Behaviors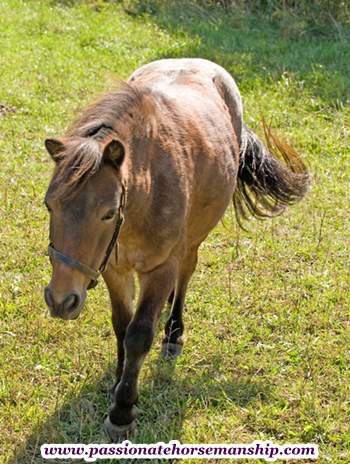 [audio:https://passionatehorsemanship.com/wp-content/uploads/2012/01/ExtingushBehaviorsMary.mp3|titles=Extinguish Behaviors]
Recently I was asked this question "I taught my horse to back for treats and he's been backing away from me ever since! I had to ignore backing and treat him for coming forward. Lately I taught him to pick up his feet on a hand signal, only now he's picking his feet up all the time trying to get treats! What am I doing wrong? Should I be working much faster so he hasn't got time to keep offering behaviors I haven't asked for? He seems to get the idea I only want one thing and then I sort of have to 'untrain' it." ~Mary
First off it does not sound like you've done anything wrong and you don't need to untrain him for picking up his feet. From what you've stated you've put a cue to him picking up his feet which is good. Basically what he is doing is baiting you into giving him a treat so don't fall for it just let him extinguish the behavior.
If he only knows a few behaviors like backing, coming forward and picking up his feet and this was the last thing you taught him then this is why he is doing this as he is showing you what he knows and how well he can pick up his feet. If there is something else you want to teach him then move on to that because if we don't then they start getting bored or frustrated.
I've found that some horses pick things up really fast and those type need to know lots of different behaviors. What I teach in my program is to phase out the click after the horse is offering the behavior several times and you know for sure they understand then I put it on cue and phase out the click and treat.
Remember the click and treat is for new behavior or to refine old behaviors that you want to get sharper. The step by step program I teach builds a foundation so you have a roadmap basically instead of being all over the place. The program gives the horse lots of different behaviors to choose from and from there you can use this foundation for trail riding or for competition.
Signup for my Free report "10 Mistakes Made When Clicker Training A Horse and How To Avoid Them" by entering your name and email address to the right.