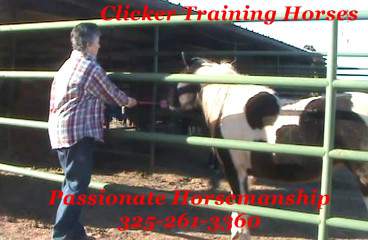 Clicker training is a very powerful communication tool that uses a marker signal and can motivate your horse without escalating pressure.  You can have a horse that actively participates in the learning process. Clicker Training is based on proven behavioral science and is the most effective and gentle training method for all animals, especially horses.  It is used by professional horse trainers as well as Olympic riders.
B. F. Skinner, the world-famous psychologist, proved through his experiments that an animal rewarded for good behavior will learn much more rapidly and retain what it learns far more effectively than an animal punished for bad behavior!
"Kim has an extreme ability to care about what she is doing more than most people. She is very passionate about horses and likes to get it right. Kim cares about the horses and her clients. She also has more education than most trainers will ever have. So I can find no reason what so ever why anyone would not want to work with her. They are wasting their time with other trainers! Better to just start with the best. Kim takes very good care of the horses and gives them the best education possible. I am now endorsing Kim as an Instructor of my methods. She does know it inside and out. With her knowledge and insight, she can help many." ~ Leslie Pavlich – AZ Author of Clicker Training: Colt Starting the Natural Horse
Clicker training can get results for the following:
standing still for mounting
come to the mounting block to pick you up
trot nicely beside you for halter classes
gain confidence in controlling their fear
excellent way to teach Horse Agility
and so much more.  
Call (325-261-3360) us today to reserve your lesson time. Not close enough to take lessons in person then take my online courses (coming soon). I want to help you on your journey to develop a willing partnership!