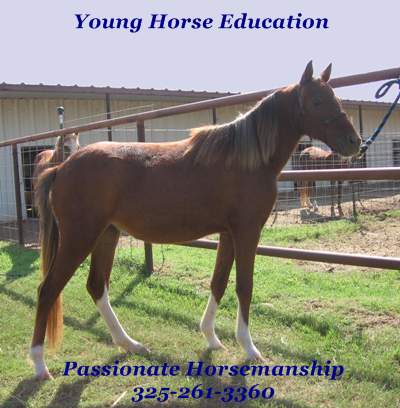 Young Horse Education for Weanlings and Yearlings
I believe it is vital to start a horses education as a weanling if possible and building a solid foundation from the ground up which carries over into more advanced training as they get older.  The first experiences can either set the stage for positive learning, or it can set them up with fear and lack of confidence however proper training can help the horse to over come any obstacle or fear.    
Groundwork is designed to set up the communication cues for when they are older and start under saddle making them more marketable. Foundation training can make a huge difference to a horse into their adult riding career. Building a strong foundation will setup a partnership that will last a lifetime.  It does not matter what riding discipline you choose if you build a solid foundation!
More and more studies are being done that the first few years of a horse's life are the most important in his mental and physical development. I believe in taking the time from the beginning to build a solid foundation and not rushing them.  
The programs below are accomplished using positive reinforcement, and basic in hand exercises as well as having the youngsters go through the obstacle course. Programs are developed for weanlings and yearlings producing a light and responsive colt that will last a lifetime. It develops their confidence and prepares them to be started under saddle. Programs for weanlings and yearlings are based upon 60 days but we understand that each horse is an individual and there are exceptions to every rule as some horses will progress faster and others will need more time. Some horses are naturally quiet and gentle while others are sensitive and high strung.  
The young horse education program is for those who own their own horses and want to learn how to build the proper foundation will last a lifetime!  
Weanling Program (must be weaned and at least 6 months of age)
Pick up all four feet well and can be trimmed
Will easily load and unload from the trailer
Backup (short distances), Go Forward and Stop
Some obstacle course work and spooky objects
Yearling Program
Haltering and Head Lowering/Calm Down
Pick up all four feet well and can be trimmed
Will easily load and unload from the trailer
Accept a rope bit quietly
Accepting a bareback pad and surcingle
Obstacle course work and spooky objects
Backup, Go Forward and Stop
Will move away from pressure
Get above them on the fence
Leadership and connection does not transfer therefore it is very important that the owner knows how to work with their own horse to develop that bond and partnership. Your success with your horse is important to me!