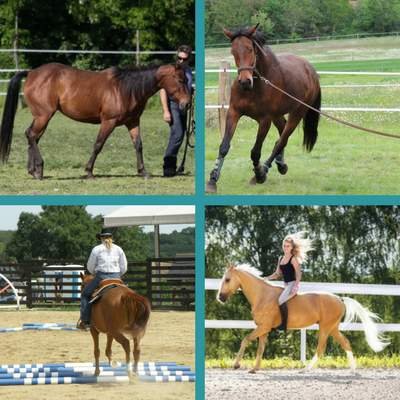 Gain Confidence Handling and Training Your Horse
Learn how to develop trust and respect and be confident when handling your horse
Are you:
Disappointed because you've lost confidence when handling or riding your horse?

Frustrated because your horse doesn't seem to listen to you, and you don't know how to get them to do what you want?

Thinking about giving up because you don't know what steps to take next?
Imagine How You'll Feel When…
You have confidence because you know what to do when working with your horse, or if a problem arises.

You know how to effectively communicate with your horse to get the results you want, on a consistent basis.

You have the knowledge and confidence to not only train your horse yourself but also rest easy knowing you'll never have to send your horse to a trainer again. However, should you choose to work with a trainer, you'll know precisely what to look for and what questions to ask so you select the right one for you and your horse.
Until now, your only option may have been to hire a trainer that takes your horse and leaves you in the dark about what they're doing. Sometimes you get your horse back from the trainer and experience more problems than what you had before.
Now, you can take the power back into your own hands by learning how to understand and effectively communicate with your horse. You will be able to develop a deeper bond and have a horse you can truly enjoy.
You're in the right place I can teach you how to develop trust, gain respect and become confident when handling your horse! You will be so glad you took this step, and your horse will thank you as well.