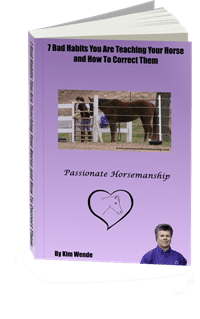 Your horse paws at feeding time and you immediately feed them.

Does your horse rush through gates without your cue?

Your horse starts walking off when you try to get into the saddle.

Does your horse try to bolt off before the halter is fully removed?

Feeding your horse immediately after their workout.

Does your horse throw their head up when removing the bridle?

You trot or canter your horse back

to the barn.
If you answered "Yes" to any of these then you need to get this FREE report and STOP these bad habits before they get worse. Enter your name and email address below.
"Kim's tips are a great reminder that each time we are with our horses we are training them! It's easy to forget, but undoing the habits when one creeps into our horse's behavior is easy with this guide. I am a former professional equestrian, so I should know better, but #1 (pawing) drives me crazy! With a little rethinking and positive reinforcement, it disappears! Kim's clear explanation of what and why for each of these behaviors is terrific, and I'm being more mindful of my own actions once more! Thank you!!" ~Emily Wigley
To get my simple step-by-step techniques to improve the communication between you and your horse enter your name and email address below.